A must-attend Alberta business gala dinner, the Signature Event is ABFI's annual celebration of the history and success of outstanding multi-generational business families. With an attendance of over 600 people combined in Edmonton and Calgary, it is an opportunity to gain insight into the inner workings of some of Canada's most successful businesses and the families who own them.
Featuring an intimate discussion with a prominent business family, this event showcases real life examples and the history and lessons learned from some of Canada's leading business families. It provides a unique opportunity for the business family community to learn, socialize, and celebrate success with business family luminaries. It's also an important fundraiser that helps ABFI grow, develop, and provide educational opportunities to ensure family-run businesses and enterprises have a solid future.



The Rayner Family Story
The VETS Group began its development in 1921 when the company's founder, World War I Veteran Fred Rayner, began installing his own patented gravity furnaces in post-war bungalows around Edmonton. Today, the company is led by 4th generation President, Sean Rayner, and has become a progressive group of mechanical, sheet metal, and service divisions that are leaders in both industrial and residential HVAC systems fabrication, installation, repair, and maintenance.
VETS Sheet Metal services the Western Canadian industrial HVAC market from offices in Edmonton, AB and Burnaby, BC. A team of over 130 tradespeople and engineers complete complex work in the wood fibre, oil and gas, power generation, mining, institutional and water treatment industries from Vancouver Island to the Yukon, and as far east as Manitoba. VETS Facility Services offers proactive maintenance for building owners, property managers, and multi-unit residential throughout central Alberta.
In addition to its emphasis on quality and integrity, the company upholds a focus on community as part of its core values.To celebrate their centennial in 2021, the VETS leaders launched an ESOP (Employee Share Ownership Plan) as an innovative succession and transition plan. Their broader community outreach efforts also include supporting local associations and charities, like Valour Place and Little Warriors.
For over a century, the Rayner Family has guided VETS to become a recognized leader in Canadian family businesses, while always maintaining the "get-it-done attitude" that Fred Rayner exemplified.
"This company has seen a world war, countless cycles of boom and bust and now a pandemic. There is a theory that only .5% of businesses survive to celebrate their centennial anniversary and I'm not sure how many of those, especially in Canada, are family-owned."
— 4th generation President Sean Rayner.
Looking Back at Signature Event 2023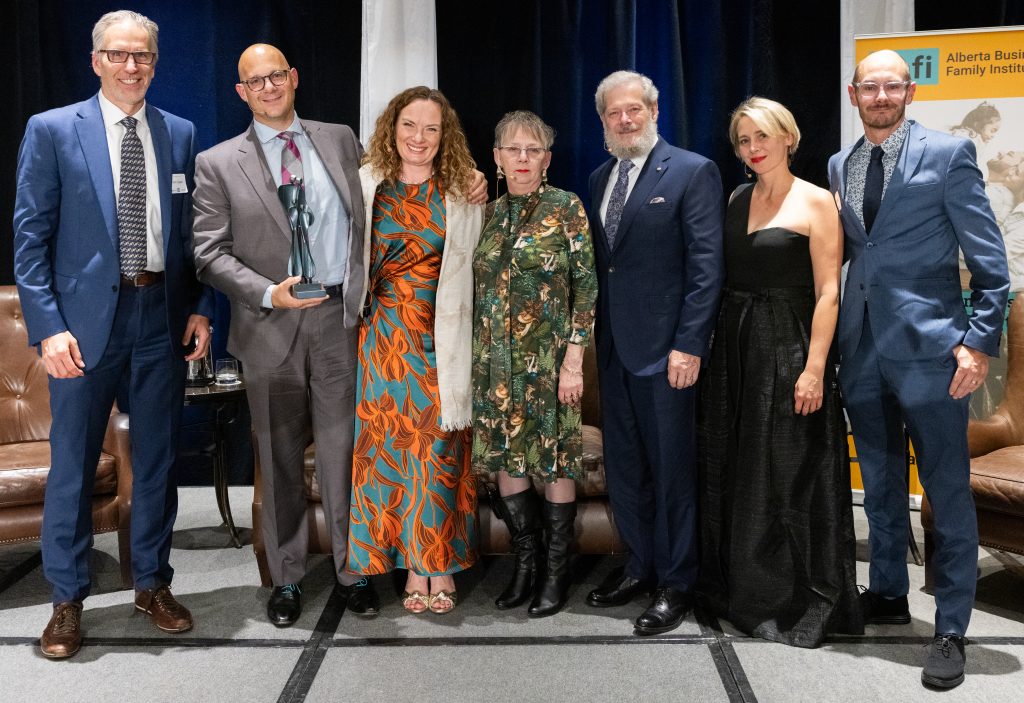 On October 3rd and 4th, in Calgary and Edmonton respectively, ABFI was proud to honour the Rayner Family of VETS Group at our 19th Annual Signature Event. With an attendance of almost 500 people combined, the event was a great success.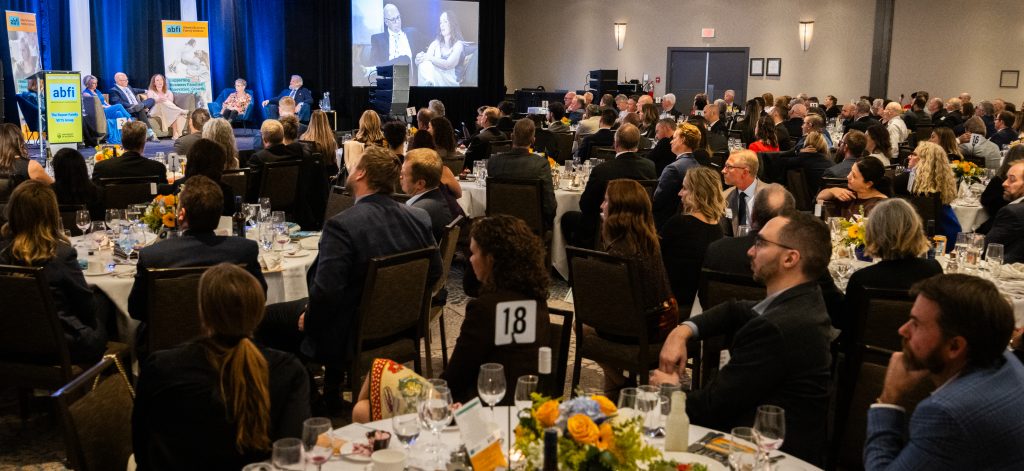 Our guests included dignitaries, such as Premier Danielle Smith, who attended the event in Calgary, and MLA Tany Yao, who attended in Edmonton. There were also a number of past Signature Family members in attendance, including the Koellers of Calvert Home Mortgage Investment Corporation, the Hutchinsons of Daytona Homes, and the Hays of Scandinavian Building Services.
Stories & Lessons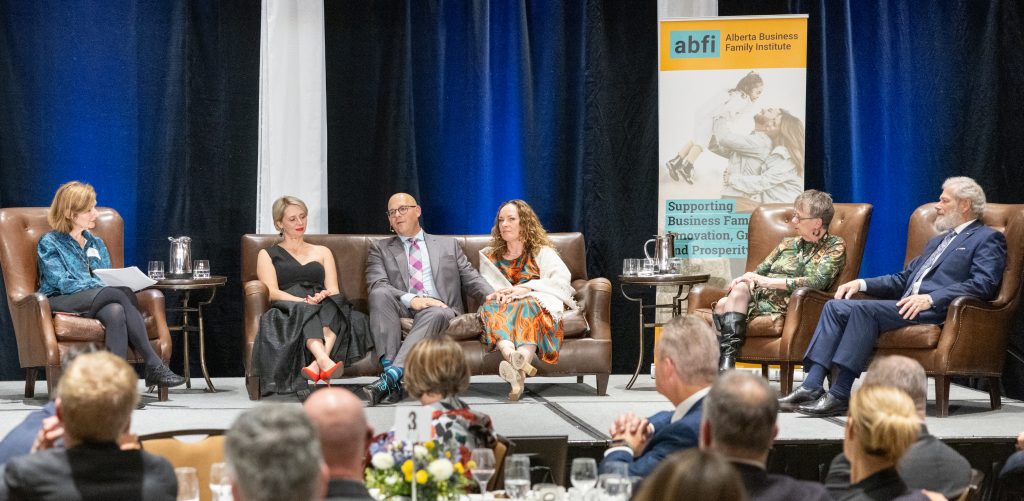 Hosted by our master of ceremonies, Jeff Tetz (CEO & Partner at Results. Business Consultants), Signature Event 2023 centred on an intimate discussion with Sean Rayner (4th Generation, President & CEO) and his wife, Allison Rayner, Erin Rayner (4th Generation, Vice President, Business and Corporate Development), David Rayner (3rd Generation, President & CEO), and David's wife, Bernadette Rayner.
Video Insights
In this Series of videos, the Rayner Family introduces themselves and their business, sharing stories and insights about the growth, successes, challenges, and transitions they have experienced together over more than a century.
Thank You
ABFI would like to express our thanks and appreciation to everyone who provided their support and helped make Signature Event 2023 a success. That included the dignitaries and community members who attended, the ABFI board members who assisted with its planning, our supporting partners, and of course, the Rayner Family.
Our 2023 Partners

To become a Signature Event 2024 partner, please contact us.

The Hay Family Story
The Alberta Business Family Institute was proud to celebrate the Hay Family of Scandinavian Building Services for our 18th annual Signature 2022 Event on October 12 and 13.
Scandinavian Building Services was established in 1956 as a small janitorial company in Edmonton, Alberta. It has been owned and operated by the Hay family since 1982. They have established a significant presence across Canada, earning a "spotless reputation" and serving a growing list of clients including Canada's largest retail and commercial companies, fitness facilities, iconic sports complexes, shopping malls, and more.
This extraordinary family is recognized as a leader in family business as they continue to be inspired by their late founder, leader and CEO Terry Hay (1952-2018). They have a business that embraces two generations and spans 30 years of service. Their high standards–and total commitment to providing the best client service in the business–permeate the entire organization.
Video Insights
In this series of videos, the Hay Family considers the journey, transitions, and successes of their business and family.
Thank You
The success of Signature Event 2022 was thanks in no small part to the gracious support and assistance of ABFI's board, our Signature Event Sponsors, the members of the family business community that attended the event, and the honoured family itself.
Combining in-depth conversation with the businesses' founders and next generations leaders, Signature Event is more than a networking event or a fundraiser, it is an opportunity to connect and learn from an engaging and inspiring business family story.
Our 2022 Partners



Help ABFI celebrate the history and success of outstanding multi-generational business families by participating in the Signature Family nomination process.
Criteria
Family-owned business (private or public companies, organizations, or holdings)
Based in Canada and operating in Alberta
Employs multiple family members and is or will be multi-generational
Demonstrates the core values and principles of the Alberta Business Family Institute
Possesses a compelling story, featuring a major challenge or recent success.
Process
To nominate our next Signature Family please fill out the Nomination Form online or contact abfi@ualberta.ca. 2024 nominations must be submitted by no later than 11:59 PM MST, December 15, 2023.